Olja och gas
Cat 3512B
Cat 3500 offshore-generatoraggregat är särskilt utformade för borrning och produktion offshore. Decades of experience powering offshore vessels and platforms make have evolved into a product that offers proven performance, low emissions, high durability, and low owning and operating costs.Applications for 3500 offshore generator sets include main power, essential services power, and emergency power on-board drilling and production rigs and vessels.Cat generator sets are backed by the worldwide network of Cat dealers ready to support your operation with technical support, service, parts, and warranty.Cat 3512B offshore generator set. Ratings: 880-1360 ekW (1100-1943 kVA) @ 50/60 Hz (1000/1200/1500/1800 rpm). Emissionsnormer motsvarande IMO Tier I Emissionsnormer enligt IMO Tier II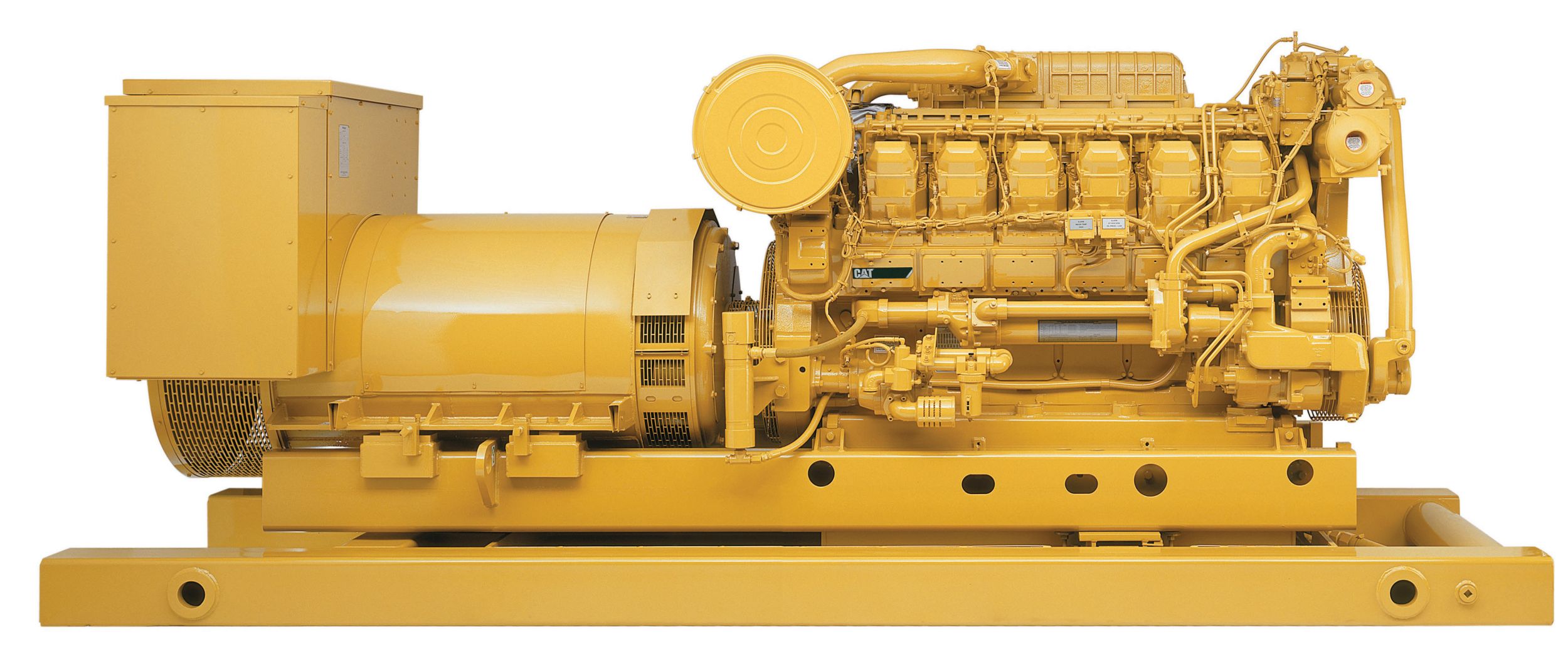 Specifikationer
| | |
| --- | --- |
| Minimal klassning | 880 ekW |
| Maximal klassning | 1360 ekW |
| Emissioner | IMO Tier II |
| Vikt | 14975 kg |
| Slaglängd | 190 mm |
| Slagvolym | 52 l |
| Cylinderdiameter | 170 mm |
| Oljebytesintervall | 1000 h |
| Motorstyrdon | ADEM A3 |
| Insugningssystem | Turboladdad-efterkyld |
| Bränslesystem | EUI |
| | |
| --- | --- |
| Höjd | 2207 mm |
| Längd | 4842 mm |
| Bredd | 1988 mm |
| | |
| --- | --- |
| Kylsystem – motor | 401 l |
| Smörjoljesystem – påfyllning | 318 l |
Fördelar och funktioner
- Developed specifically to meet the demands of oil and gas applications- Proven reliability and durability- Robust diesel strength design prolongs life and lowers owning and operating costs- Market-leading power density- Designed to perform in oilfield conditions, including high ambient and high altitude applications- Long overhaul life proven in oilfield applications- Core engine components designed for reconditioning and reuse at overhaul
- Inner-outer base mounting configuration simplifies rig integration - Wide range of attachments enable configuration flexibility - Inner base three-point generator mounting maintains factory alignment - Single lifting point simplifies installation work
Avancerad diesel engine management
- ADEM A3 engine management system provided engine control, monitoring, and protection.
- E-stop pushbutton on instrument panel - Air shutoff and explosion relief valves available - Configurable alarm, derate, and shutdown set points - Extra alarms, inputs, and outputs available
För alla petroleumtillämpningar kan du lita på att Caterpillar uppfyller behoven för ditt projekt med anpassade generatoraggregat för fabriker och mekaniska paket. Cat-motorer, generatorer, reglage, kylare, och transmissioner kan utformas särskilt och anpassas i samarbete med våra lokala återförsäljare för att ta fram unika lösningar. Anpassade paket stöds globalt och omfattas av ett års garanti efter start.
Every Cat generator set is full-load tested to ensure proper engine performance. – Generator sets are assembled, tested, and validated as a package to ensure performance, reliability and durability.
Produktsupport som erbjuds genom cat:s globala återförsäljarnät
– Fler än 2 200 återförsäljare – Cat:s fabriksutbildade återförsäljartekniker kan underhålla alla delar i din Cat-produkt för oljeindustrin – Global tillgång till reservdelar, service och garanti – Vi har avtal för förebyggande underhåll med reparation innan fel inträffar•O•SSM program matches your oil and coolant samples against Caterpillar set standards to determine: • Internal engine component condition • Presence of unwanted fluids • Presence of combustion by-products • Site-specific oil change interval
Fler än 80 års erfarenhet av motortillverkning
Ägarskap av de här tillverkningsprocesserna gör att Caterpillar kan tillverka högkvalitativa och pålitliga produkter.
För alla dina oljeindustriella behov kan du besöka www.catoilandgasinfo.com.