Industrimotor
Cat C3.6
The C2.8 and C3.6 IPU engines are common rail direct injection engines with a turbocharged or turbocharged aftercooled air system meeting EU Stage V, U.S. EPA Tier 4 Final and Japan 2014 (Tier 4 Final) emission standards. For ease of installation, the IPU provides full aftertreatment mounting, an integrated cooling system, a full wiring harness and mounting for the ECM and fuel filter. Uppfyller emissionsnormerna EU steg V, US EPA Tier 4 Final, Japan 2014 och Korea Tier 4 Final
Offertförfrågan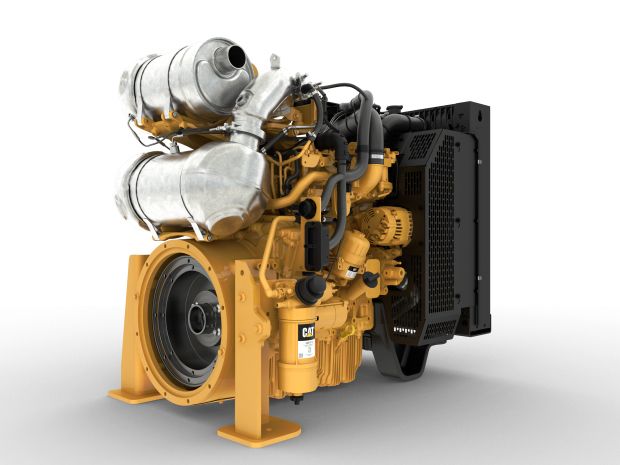 Specifikationer
| | |
| --- | --- |
| Maximal effekt | 100 kW |
| Maximalt vridmoment | 550 Nm @ 1500 rpm |
| Nominellt motorvarvtal | 2 000—2 200 rpm |
| Minimal effekt | 70 kW |
| | |
| --- | --- |
| Emissioner | U.S. EPA Tier 4 Final/EU:s steg V/Japan 2014 (Tier 4 Final) |
| | |
| --- | --- |
| Antal cylindrar | 4 inline |
| Cycle | 4 stroke |
| Cylinderdiameter | 98 mm |
| Slaglängd | 120 mm |
| Slagvolym | 3.6 l |
| Kompressionsförhållande | 17.0:1 |
| Insugningssystem | Turboladdad och efterkyld |
| Förbränningssystem | Direktinsprutning |
| Rotation från svänghjulsänden | Anti-clockwise |
| Efterbehandling | DOC+DPF+SCR |
| Kylsystem | Vätska: |
| | |
| --- | --- |
| Längd | 1177 mm |
| Bredd | 808 mm |
| Höjd | 1036 mm |
| Torrvikt | 551 kg |
| | |
| --- | --- |
| Obs! (1) | *Final dimensions dependent on selected options |
Fördelar och funktioner
Ready to go for machine installation
The ECM, aftertreatment sensors and fuel filter have all been mounted on the IPU and validated to operate in the harshest of environments.

A bespoke wiring harness has also been developed to allow for a simple hookup to the machine wiring.

For the quickest installation possible, an optional engine control panel for engine monitoring and speed control is also available.
Tillförlitlig, tyst och hållbar kraft
Tillverkningskapacitet och processer i världsklass tillsammans med beprövad teknik och omfattande utvärderingar på fältet ger hög driftsäkerhet och hållbarhet i krävande terräng.
Zero downtime for regeneration
Diesel Oxidation Catalyst (DOC), Diesel Particulate Filter (DPF), and on the C3.6 Selective Catalytic Reduction (SCR) system supplied installed on-engine to provide zero downtime for regeneration